Since 1997
Brian Rovinsky, Owner
(Formerly, St. Cecilia Sound Gallery)
1290 S. Missouri St., Suite C • Clearwater, FL 33756-9183
(727) 446-2505
Email: info@sweethomeaudio.com
CLICK HERE to return to Consignment List
Bay Audio Jam Monitor Loudspeakers
The JAM Monitor is a versatile full-range bookshelf system that combines the detail and clarity of an audiophile speaker, with the impact of a theater speaker. It's sized to fit in any entertainment cabinet.

2-Channel Systems The JAM Monitors are perfect for use in 2-channel systems. They fill a 5,000 ft3 room with concert level sound.
Theater Systems The JAM Monitor is the basis for a high performance theater system. Use the JAM Center and JAM Subwoofers. For the surround channel, choose the BeBop or Floating Grille In-Walls for surround. All units are sonically matched within ±2dB for seamless multi-channel playback.
Product Features • Reverberance control reduces echoes in lively rooms. • Presence control reduces throw for near-field listening. • Boundary control reduces mid-bass "bloat" caused by bookshelf or wall placement. • Constrained layer baffle greatly reduces distortion in the midrange and bass. • Wood veneer on both sides of the cabinet walls ensures structural integrity even in high-humidity environments. • Video shielded for placement next to TVs.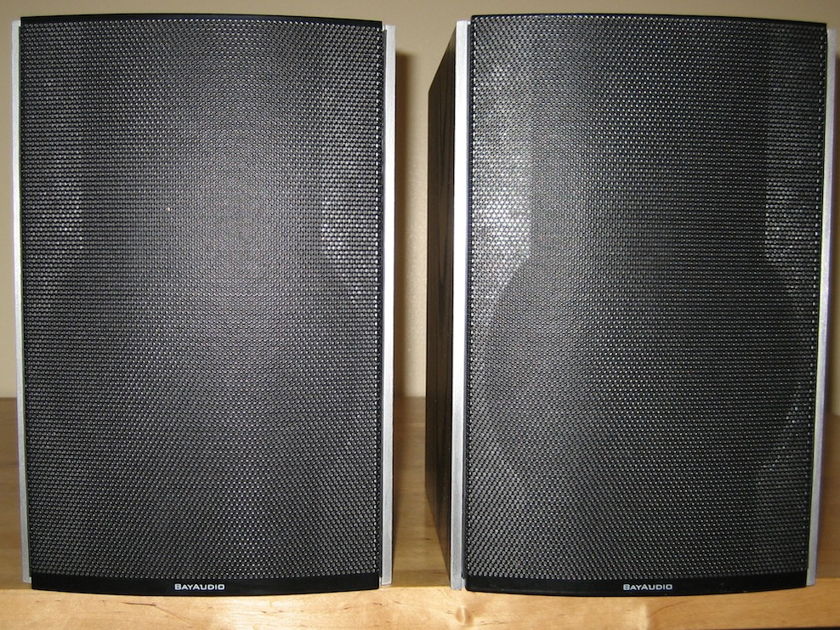 These are the BeBob models. The Jam Monitors are bigger with a port on the front.
By methodically measuring the effects of room size, building materials, furnishings, and speaker placement on music reproduction, we create products that sound great in any room of your home. We're pioneers in this field—the first, and we believe, only speaker company to focus entirely on designing speakers mindful of the interaction of placement on room acoustics.
Only Bay Audio has on–board filters to optimize the speaker for its intended placement. These are the most common room acoustic issues, and a description of the controls we developed to solve them:
Reverberance You may have a listening room with hardwood floors, exposed windows, and a minimum of furniture. This creates a distinct echo effect in the room we call reverberance. It makes certain frequencies — especially the higher notes — overbearing. We put a Reverberance control on the JAM Monitor, JAM Center, and BeBop to mitigate this effect.
On-Board Tuning
Presence Pro sound engineers touring with bands talk about "throw" when they describe the distance a speaker reaches into the audience before the sound begins to fall off. In the home, we refer to this as Presence, and equate it with how natural the Monitor sounds when a listener is sitting a fixed distance away. Our Presence control lets you figuratively move the speaker closer or further from the listening position to balance its sound.
Boundary Take a typical speaker and place it on stands. Sounds good. Now put it in a bookshelf and its sound changes. Most likely, vocal clarity degrades, and bass becomes muddy. The JAM Monitor, JAM Center and BeBop have a Boundary control to "normalize" placement, whether you place them on a shelf, in an AV cabinet, atop a television, or on stands.
Room Modes Reproducing balanced bass is the trickiest task an installer faces. Low frequencies are affected by the size and shape of your listening area, where you place the speaker, and where you sit to listen. Every room creates pockets of strong bass (usually along the walls and in corners), and pockets where the bass seems non-existent (unfortunately, usually at the listening position). These pockets are known as "standing waves."
Solving this problem requires multiple sources of bass. We designed the JAM Monitor to play full range information in the theater — reproducing much of the same bass information sent to the subwoofer. Pairing two JAM Monitors with the JAM Subwoofer puts three sources of bass into the room, greatly reducing standing waves.
Price is just $500 (new they were over $1,650).
CLICK HERE to return to Consignment List