Since 1997
Brian Rovinsky, Owner
(Formerly, St. Cecilia Sound Gallery)
1581 Main Street, Dunedin, FL 34698
(727) 446-2505
Email: info@sweethomeaudio.com
CLICK HERE to return to Consignment List
Sony STR-DE715 AV Receiver
This is another VERY affordable 5.1 AV Receiver receiver that performs well and is in very good condition.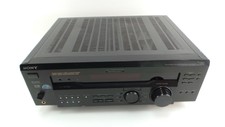 100 wpc
This is a very good entry level receiver. It has all the features you need to run an average Home Theater system. The connections are simple and easy to understand.
Price is just $75 (new it was $480).
CLICK HERE to return to Consignment List