Since 1997
Brian Rovinsky, Owner
(Formerly, St. Cecilia Sound Gallery)
1290 S. Missouri St., Suite C • Clearwater, FL 33756-9183
(727) 446-2505
Email: info@sweethomeaudio.com
CLICK HERE to return to Consignment List
Allison CD9 Tower Loudspeakers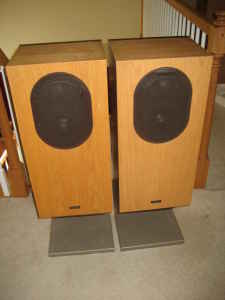 Nice cabinets! Come in and check them out.
This was an Stereophile Magazine Recommended Speakers


This is what JGH from Stereophile magazine had to say

The highs are smooth and detailed and sound very much like what I hear from real instruments. Massed Violin sound is excellent without a trace of steeliness and the system never sounds hard at high listening levels.
These speakers can be listened to loudly without any feeling of strain- undoubtedly one of the things which makes them capable of reproducing dramatic music with appreciable impact.

Imaging and Soundstaging are very good- almost as good as I have heard from anything. On properly- mic-ed material the loudspeakers simply disappear the instruments firmly suspended in the space between them. Imaging is stable but not quite as specific as I have heard. This speakers do most audiophile-type things as well as do most-so-called audiophile units.
Response is smooth from the top to bottom and amazingly the low end measures almost exactly according to Allison Specifications. I measured the -3db- down point at 35.5 Hz and the -6db- down point to 29.7 Hz
The CD-9's bass performance is taut controlled and detailed rather than fat and turgid. Its bass is in fact similar of to that of end.
Price is just $95 (new they were over $1,300). NOTE: woofers need to be reconed and there is a dimple in one of the tweeters.
CLICK HERE to return to Consignment List