Nola's Latest Loudspeakers are here!
y audiophile persona felt that, with the DX, there was a greater sense of ease, of you-know-whatability to the imaging, of involvement with the overall sound. And that's what it's all about, even without taking into consideration the DX's ease of setup and use. Highly recommended. I said highly.
Read more at http://www.stereophile.com/content/roon-labs-roon-v10-music-playback-app-page-2-0#VAIrZ5eX7ZfYF9e6.99
We are also the exclusive dealer in the Tampa Bay area for the world renowned Nola loudspeakers
We have been a HUGE fan of the loudspeakers designed and built by audio legend Carl Marchisotto. From his years with Dahlquist, though his outstanding creations with Alon and, for the past recent years, with the evolution of his speaker designs, Nola Loudspeakers.
We now have the Contender S3 speakers and the Boxer S2 speakers in our store.
The
Nola Contender 3
($4900) is a slim floor-standing tower loudspeaker that is a step up from the very popular NOLA Boxer 2 bookshelf. Compared to the NOLA Boxer 2, the
NOLA Contender 3
offers sonic improvements in the areas of depth reproduction, dynamic range, low level resolution and bass extension. The
NOLA Contender 3
provides bass extension to 30 Hz. The nimble bass quality of the original is maintained.
The driver complement consists of two new low mass 6½ inch woofers and one high resolution silk dome tweeter, in a vertical array. The silk dome tweeter is new for the NOLA Contender 3, resulting in even smoother response.
New 6½ inch bass drivers have been developed and these provide gains with an even cleaner and more transparent response across the range. Each bass driver is in a separate chamber, each with its own double flared port. This technique, while more expensive, eliminates woofer interaction and provides clearer sound.
The upper driver is ported to the rear while the lower driver is ported to the floor. The chambers are tuned to different frequencies to provide smoother room bass response.
The NOLA Contender 3 is a true three-way system with the benefit of increased mid-range clarity, yet it maintains the coherency of a good two-way, like the NOLA Boxer 2. We feel this approach, while more costly than conventional designs, provides superior musicality.
The NOLA Contender 3 maintains the smooth 8-ohm impedance and high 90 dB sensitivity of the original for easy amplifier matching. Use with amplifiers of 30 watts or more. The NOLA Contender 3 footprint is the same as the NOLA Boxer 2 on a stand.
NOLA Contender S3 ($6900)
The Contender S3 is a premium version of the Contender 3. High speed Mundorf capacitors and Nordost mono-filament silver wire throughout are employed to compliment the new silk dome tweeter. Improvements in transparency, dynamics, clarity and bass definition bring the performance experience closer to "live".
Specifications
Dimensions: 44" H x 8" W x 12" D (including spikes), 50 lbs. net
Response: 30 Hz to 28 kHz
Sensitivity: 90 dB
Impedance: 8 ohms
Crossover: Built on two isolated boards point to point wired with premium polypropylene capacitors
Finish: Gloss American Cherry or Gloss Black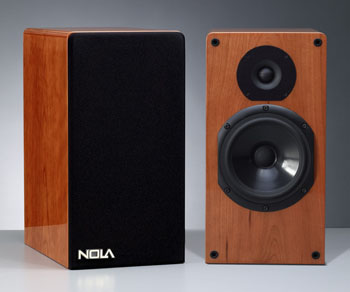 The
Boxer 2
($1,900) is a 2-way stand mounted monitor built to Nola standards throughout. It is an upgrade in performance over the original Boxer.
Boxer 2
incorporates a new 6½ inch low mass bass / midrange driver for increased mid-band transparency. In addition, bass response is now extended to 39 Hz. The high frequency driver is a high resolution silk dome tweeter with smooth extended response to 28 kHz. A diffraction ring is utilized for cleaner high frequencies. The bass driver is loaded by a rear mounted twin-flared port for low distortion and noise. Although the main priority here is best possible mid range quality (as in all Nola speakers), the bass response has been extended to 39 Hz to provide a full range sound. Rear connection is by a pair of all-metal gold-plated binding posts that accept spade and banana connections. These connectors are fixed directly to the cabinet, thereby omitting the sonically deleterious effects of plastic connection plates.
The all-important crossover is a shallow slope design with excellent phase characteristics. The construction employs only point-to-point hand wiring of very high quality components. Capacitors are high purity film polypropylene and only air core inductors are used for zero distortion. Resistors are close tolerance 2% metal types.
Wiring is proprietary low-loss oxygen-free copper. The crossover also incorporates a shock isolation system in order to minimize the effects of vibration for a cleaner sound. The 90 dB sensitivity and 8 ohm easy to drive impedance is maintained.
The net result is a wide range and dynamic transducer that is accurate yet faithful to the music. The sound stage is very large and "open", yet has excellent focus. The low distortion means that long listening sessions are possible without fatigue.

Boxer S2
The Boxer S2 ($2,900) is an optional upgraded version of the Boxer 2. High speed Mundorf oil capacitors along with Nordost silver mono- filament wiring are employed to compliment the new bass drivers. Improvements in transparency, dynamics, bass definition and reduction in "hash" are very audible.
---
Cayin Tube Integrated Amps are here!
Cayin CS-55A $2650 with KT-88 tubes, $2500 with EL-34 tubes.
The CS-55A is the most recent advancement in tube amplifier technology created by Cayin. This state-of-the-art

machine boasts forty watts per channel by using 4 KT88 tubes in Class AB ultra-linear push pull amplification. The

CS-55A consists of four pairs of input: one Phono, a USB port, and two line inputs giving a wide range of options for

any listener.

The CS-55A comprises of a fully anodized aluminum front, a vented chassis with a gorgeous finish, the finest hand-made point-to-point wiring, and a soft-start circuit to enhance the life of the toroidal power transformer and output transformers. Combined with audio grade capacitors, carbon film resistors, and ceramic tube sockets, this is one amplifier every audiophile should have in his/her collection. Speaker output impedance can be swapped between 4 ohms and 8 ohms. Similarly to the A-88T, the CS-55A comes with a handy remote control.
Transform your music system! Extraordinary value and performance best describes the Cayin Audio CS55A Integrated amplifier. As the centre piece of any system, the unit is at home with both analogue or digital formats. CS-55A includes a built in MM phono section to accommodate turntables and a built-in high resolution DAC for use with computers. Via the 2.0 USB input, the DAC is capable of covering digital audio signals up to 32bit | 384kHz. This combination of a high end DAC and tubes makes for a rich and detailed soundstage.
The output stage can be switched between Triode and Ultra Linear mode and either KT88 or EL34 tubes can be used for the maximum amount of flexibility. A headphone jack on the front completes the unit and makes this one of the most versatile and compelling products on the market for 2018.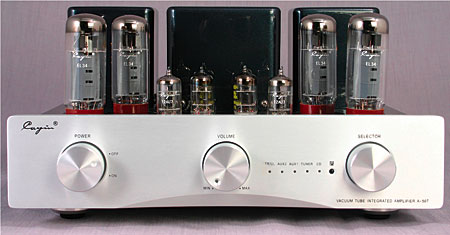 Cayin A-50T $1600 with EL-34 tubes, with excellent built-in phono stage, $1900.
The Cayin A-50T immediately attracts listeners with its rare, natural, and fluid sound. These qualities, paired with immaculate processing, make the new Cayin amplifier without competition in its price range.
The A-50T contains four EL34s and produces Class AB1 amplification. This unit's superb craftsmanship features point-to-point wiring, top-of-the-line EI audio transformers, and a specially developed toroidal core net transformer. Two 12AX7EHs and two 12AU7s are used in the preamplifier. The signal processing is exclusively made through tubes, with a simple switch to fine tune output taps for 4 or 8 ohms. A removable cage snaps in and out of position to either protect the tubes or showcase high-quality components. A remote control for all functions, including triode and ultralinear circuit options, perfects the carefully laced accessories package.
---
Totem Acoustic Loudspeakers - are also here!
y audiophile persona felt that, with the DX, there was a greater sense of ease, of you-know-whatability to the imaging, of involvement with the overall sound. And that's what it's all about, even without taking into consideration the DX's ease of setup and use. Highly recommended. I said highly.
Read more at http://www.stereophile.com/content/roon-labs-roon-v10-music-playback-app-page-2-0#VAIrZ5eX7ZfYF9e6.99
Totem is another loudspeaker brand that we proudly present as one of the best values in high-performance loudspeakers - we have them here!
Totem Acoustic offers and impressive array of loudspeakers for every music lover's budget. With performance that belies their small stature, these speakers bring big, beautiful sound to even small listening rooms. Their on-wall and in-wall speakers are truly impressive as well.
We have the new Sky Towers and and Mite bookshelf speakers here. Both give you sound quality and dimension that you'd never expect from speakers of their size. You'll be impressed.
The Sky Tower ($2495) shares the same DNA that made Sky monitor such a success, like gigantic imaging, phase coherence, authoritative bass, and amplifier friendly compatibility. Remarkably, it does it all on a larger scale and with even more impact.
A customized 5.75" woofer designed for the larger enclosure gives Sky Tower the ability to descend deeper, all the way down to 36Hz. The world's only 1.3" soft dome tweeter capable of extending to 30kHz also extends low enough to contribute to the midrange band for an enchanted charm to the most critical range.
To perfect its interaction with room acoustics, Sky Tower is mass loadable while a new high density composite Claw controls resonance, tighten bass, and heighten the soundstage. Any media at any volume is presented effortlessly with smooth detail. After all, it's a Sky.
Design features
High efficiency for easy amplifier compatibility

Ultra slim design and aesthetic compactness

Extremely dynamic performance

Placement versatility

Bespoke claw sound isolation

Magnetic grills included for easy removal and longevity
Technical features
Custom designed 5.75-inch woofer with copper capped voice coil

1.3" soft dome tweeter with extreme dynamic capability

Lock-mitered artisanal craftsmanship

Industry unique Borosilicate dampening

Sensational on and off axis response

Exclusive, hard-wired crossover with large gauge air core coils
---
Audeze Headphones - Amazing! And we have them here.
Audeze (Aud-i-ze) makes planer magnetic headphones that redefine the state of the art for personal music listening.
The Audeze Story
Audeze's origins go back to 2008 when founders Sankar Thiagasamudram and Alexander Rosson met engineer Pete Uka who developed specialized flexible circuit materials for NASA. They quickly realized the material might be perfect for headphones. That's when Dragoslav Colich, who has 30+ years' experience in designing planar drivers, joined the team as CTO to create the LCD-1 headphone.
Then we created the legendary, award-winning LCD-2 and LCD-3 headphones, and the higher-efficiency LCD-X and XC models. More recently, we made planar magnetic technology accessible to a wider audience with the EL-8, SINE and iSINE series headphones. Audeze turned to their strategic partner Designworks, a BMW Group Subsidiary, for the cutting-edge industrial design for the new headphones as well as the Deckard DAC/Amplifier.
Audeze feature proprietary planar magnetic designs with extremely thin-film driver materials and powerful custom magnets. Planars overcome many limitations inherent in typical cone drivers; our lightweight diaphragms are, for example, faster and more responsive than heavier moving-coil or dome drivers. Planar magnetic diaphragm also have a voice-coil circuit spread across the diaphragm surface. The diaphragm's voice-coil circuit interacts with the magnetic field to produce an electromagnetic force that moves the diaphragm back and forth creating the sound you hear when energized by an audio signal.
LCD-2 Headphone ($995):
The beautifully handcrafted LCD-2, the planar magnetic headphone that put Audeze on the high-end map, delivers audiophile quality, low-distortion sound that articulates the power and nuance of your favorite music. The LCD-2 is the most forgiving of poor recordings in the LCD Collection with a beautiful, musically rich presentation that communicates the warmth, power and glory of music.
"The Audeze LCD-2s have become my 'go-to' headphones for verifying my mixes. The amount of detail retrieval is amazing!"

Erick Labson, Sr. Mastering Engineer, Grammy Award Winner

"Frankly, these headphones feel the way that the interior of a Rolls-Royce automobile looks—in a word, sumptuous." Chris Martens, AV Guide

"The LCD-2 has tremendous dynamic punch, bass power and stellar resolution. The Fazor model is more detailed and spacious than the original. I really like the more open sound, but in the end these comparisons between old and new models just renewed my appreciation for the Audeze sound."
Steve Guttenberg, CNET
SINE DX On-Ear ($599)
Open-Back Headphone:
Stunning Sound. Huge Soundstage.
Introducing to the world of SINE, our new SINE DX! You have made it clear: an open-back version of our critically acclaimed SINE closed-back is what you want to hear! As a company, we make our products for you, the lover of music and audio. Here you go, the on-ear Sine DX with drivers optimized for an open-back headphone offers an amazingly smooth frequency response, an enormous open soundstage, and fatigue free listening.
Your Music. Your Sound. Hear More.
Open-backs, by their nature, sound more spacious and feature a wider, deeper soundstage with more air and separation between performers.
The sound is exquisite and pulls you into the soul of music with ultra-low-distortion, hugely deep and driving bass, a gorgeous midrange, and sweet highs.
At 100dB efficient and 18 ohms you can drive the SINE DX with almost anything.
iSINE10 In-Ear Headphone ($349)
The iSINE 10 sounds and looks like no others, an innovative design without a care for the same old status quo of balanced armature or dynamic driver designs. The Fluxor™ Magnets and large 30mm planar magnetic diaphragms deliver precise control and fast response times without distortion so music always sounds alive. Add the included Lightning cable with DSP and there's no other in-ear headphone that even comes close to its performance.
Simply put, there's nothing else on the market like the Audeze iSine series. These headphones are truly one-of-a-kind, in basically every way.
"The Audeze iSine10 is this world's first in-ear planar magnetic headphone and it's impressive from the sturdy feel to the sound they push out. It's a game changing experience worth the money." Major HiFi
"They're remarkably clear and crisp ... like looking through a window that you've just wiped clean for the first time." Wall Street Journal
""Audeze, which makes some of the greatest headphones in the world, has perfected the planar design like no other brand." Digital Trends
Come in and discover for yourself just how good music through headphones can sound!
---
Adcom - Affordable Excellence - And, yes,
we have them here!
Adcom has been impressing audiophiles for a lot of years. Their latest designs are their best yet.
Even modest budget audio systems should sound great. We know of no other brand of amplifiers that delivers more performance for less money. These Adcom products are true high-value audio products.
Two channel audio is better than ever! The new GFP-815 supports a broad audio spectrum from 10Hz to 100kHz for high level sources and 20Hz to 80kHz for phono input. The GFP-815 is designed to capture all the fidelity that high resolution audio has to offer, with precision broadband components and an ultra low noise floor. This new ADCOM preamp hasn't forgotten about your legacy or new components and provides you with support for source products ranging from turntables to MP3 players. Pair the GFP-815 with an ADCOM power amp and rediscover the magic of two channel audio. Only $499.
GIA-275 Integrated Stereo DAC / Amplifier
with Analog, Digital, USB and Bluetooth Input - Just $695.
The GIA-275 is a high performance, integrated and compact system designed to enable you to play music from your Bluetooth enabled portable devices, play 24 bit 192kHz high resolution audio from your Apple MAC or Windows systems, connect your flat screen TV through a digital connection or use your legacy analog devices such as a CD player. The GIA-275 fully supports Bluetooth V4, A2DP and aptX to produce CD quality sound through a wireless connection.
Features:
Remote Control

Black anodized rolled aluminum case


Front Panel headphone jack

Front Panel mp3 input jack

Bluetooth V4.0 receiver supports A2DP & aptX (CD quality sound)(1)

Two line level analog inputs

two optical or coax digital inputs

Sample rates: 16-24 bit, 96kHz, 48kHz, 44.1kHz, 32kHz and 192kHz high resolution audio via USB(2)


R & L speaker output jacks

80 watts/channel output at 8 ohms

120 watts/channel output at 4 ohms

Frequency response 10Hz - 20kHz


Wolfson DAC

XMOS USB Audio

Dimensions: 9.75" x 9" x 3.5" (Not including antenna height)

Weight: 6 lbs, shipping weight 8 lbs.

Power requirements: 120VAC 60Hz


Two year limited manufacturer's warranty
---
REL - Subwoofers
Wireless with optional transmitter
We love the REL subs. Unique among all subwoofers, the REL line offers dual inputs and controls for both augmenting the bass output of your main loudspeakers while simultaneously providing awesome LFE (low frequency effects) from the subwoofer output of your theater receiver.
We have these new T/i models in stock
Beyond Convention
Sound Beyond Their Size
REL prefers to refine, to build generationally upon a solid foundation while searching relentlessly for every possible way to legitimately improve upon their past performance. T/i represents a new standard for overall performance in this price category with upgraded drivers, cabinets, amps, and even zero-compression wireless capability when paired with REL's new Arrow™ wireless system.
---
Consignments

We'RE ALWAYS addING new consignment pieces.
We accept high quality, desirable used audio gear on consignment.
If you are in the market for home audio or home video gear and you're on a budget, buy from our Consignment Department. We've got quality used A/V products on consignment at very attractive prices.
Consignment makes sense. Buying or selling—either way you save.
Every month we add new items to the consignment list. We even have music on consignment — LP's and even Laser Discs.
Here, at the home of beautiful sound, we make it easy.
Check out our new Demo, Used & Consignment page: Click HERE
Our Consignment policies and procedures:

Click HERE
---
New Store Hours
Come on in and listen to some great music, talk to me about your home entertainment plans or needs and pick up some great audio and video equipment!
Store hours: Tuesday through Friday 10:30AM until 5:30PM and Saturdays from 10:30AM until 2:30PM.
Closed Sundays and Mondays except by appointment.
We do our best to keep regular hours here. However, we are frequently out of the shop helping customers at their homes and businesses. So, especially if you're coming a substantial distance, please call before you come. We'd hate to miss you!
(727) 446-2505
Thank you for reading our newsletter and visiting our web site.
Call us at (727) 446-2505 if you have any questions.
If you can, come in and check out our shop. We'll make you feel right at home.
~ Brian & Peggy Rovinsky